Q1. Why do bubbles generate?
A: (1).Using improper installation without following up our instruction or video tips.
(2).When install the protector,push out too fast, or not forceful enough.
(3).There is dust,not cleaned up or not install in time after peeling off base film.
Q2: Does the protector easily peel off?
A: Adopt high quality adhesive for the protector, it can stay well on your watch and last for a long time, protecting your watch anytime.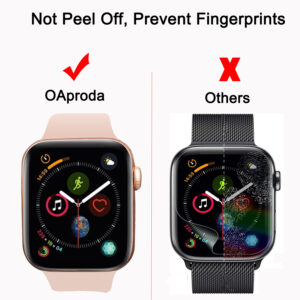 Q3: Is this protector offer full edge to edge coverage?
A: This OAproda apple watch screen protector adopts special heat-bending technique, provide full coverage from edge to edge.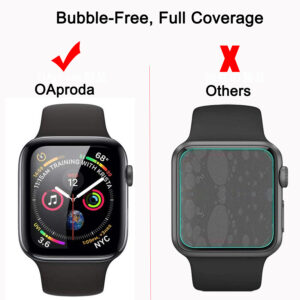 Q4: Which series of watch is this protector suitable for?
A: This screen protector specially designed for Apple watch series 4 and series 5, it can perfectly fit and offer maximum protection.
Q5: Does the protector protect the screen from scratches?
A: Made from Wear-resistant PET material, not like the common plastic protector, the OAproda screen protector can prevent your watch from scratches as well as fingerprints . At the same time, it has a certain degree of shatter resistance.
Q6: What is our after-sales service?
A: (1).If the product is damaged within 3 months, please contact us, we will replace you a new one.
(2).If you have any problems, please feel free to contact us immediately. We will service with you soon.